Choose

Your

Style.

Browse our gallery to inspire any bathroom renovation project. Discover stylish decor, beautiful colour schemes and textured patterns. From shower & tub wall designs to entirely new colour and pattern schemes, you'll find everything you need for planning your dream bathroom right here.
Anti-Microbial Protection That Never Stops Working.
If our Acrylic Wall Systems' non-porous, virgin acrylic wasn't enough protection against the stain and odor problems caused by microbes, our systems now offer you the added exclusive protection of Silver Shield. Infused into the acrylic for the lifetime of your bath or shower system, the silver ions in Silver Shield attack microbe cells to prevent bacteria from growing and reproducing. Silver Shield means extra cleanliness for your bathroom.
Silver Shield® Protection
All of our bath and shower systems are now infused with Silver Shield. These silver ions attack microbe cells so that bacteria can't grow in your surround, bathtub or shower. The Silver Shield protection lasts for the lifetime of your bath or shower system, and never needs to be reapplied. In addition, our wall systems are made with non-porous, virgin acrylic which also prevents the growth of microbes. What does this mean for you?
SILVER SHIELD®: the antimicrobial protection that never stops working
This exciting new product not only helps you and your family to stay healthy and avoid dangerous bacteria, but it also helps to extend the lifetime of your renovation, so that you can enjoy the fruits of our labour for years to come.
WATCH: Silver Shield® Video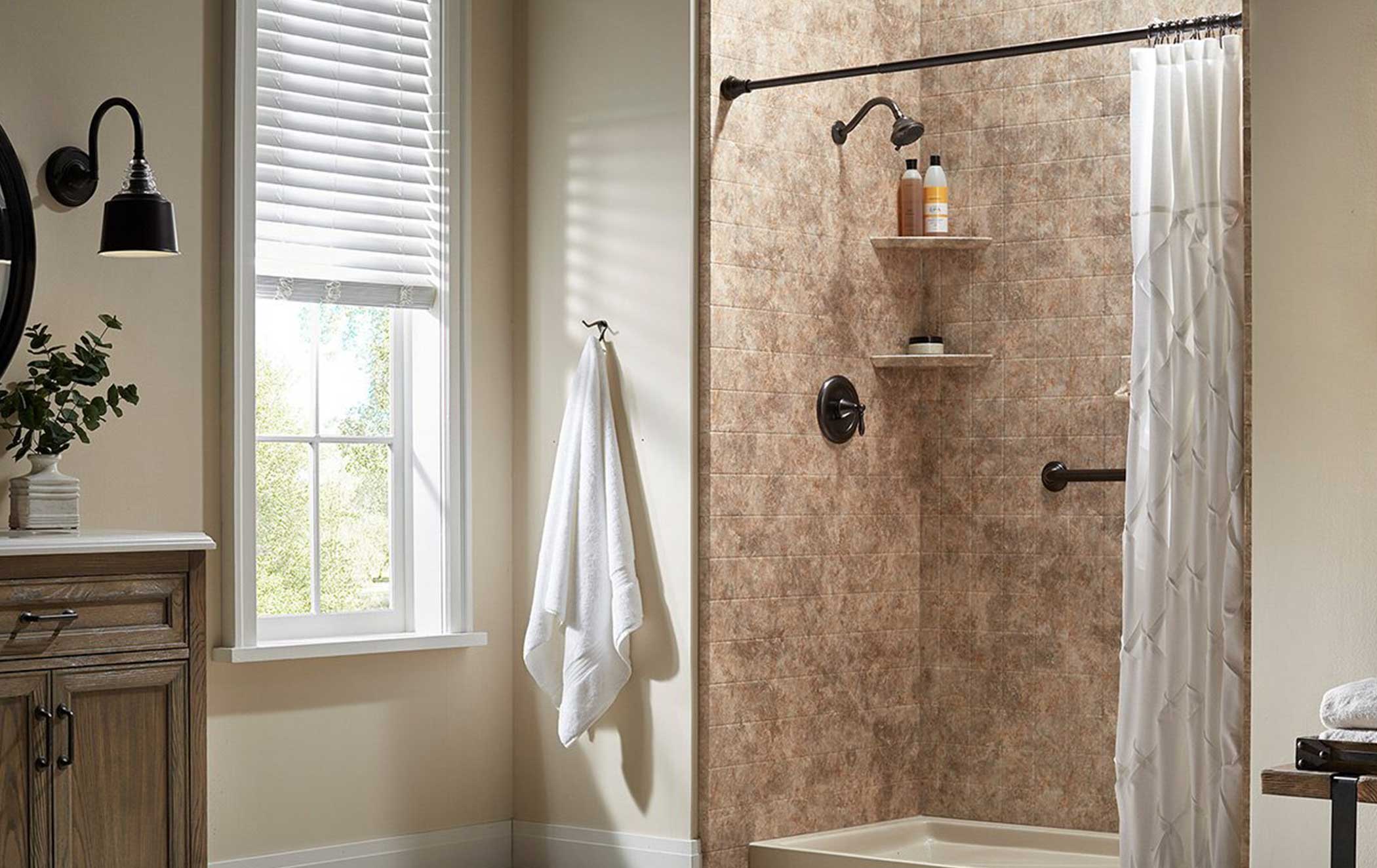 Why Silver Shield is
Safe and Effective
Don't confuse Silver Shield with other bath systems that may include a pesticide named Triclosan.
The Triclosan is currently under review by the Food and Drug (FDA) for safety issues. Silver Shield employs silver ion technology. Which has been cleared by the FDA for use in many products, meaning the FDA agrees it a safe and effective technology. With Silver Shield infused into your Acrylic Wall Systems tub, shower, or wall liner, its silver ions continually emit charges that can penetrate microorganisms. Once penetrated, these cells lose their ability to grow and reproduce. Ultimately, Acrylic Wall Systems gives you double anti-microbial protection. Acrylic Wall Systems' non-porous, virgin acrylic systems prevent microbes from penetrating the surface and the Silver Shield silver ion technology helps prevent microbial surface growth. Cleaner, Fresher, Healthier, More benefits with Acrylic Wall Systems thanks to exclusive Silver Shield anti-microbial protection.
Interested in Learning More?
A free in-home estimate will get the process started with a budget-friendly quote and your design choices in mind.